Lips Smacker's Chipotle Blend – Seasoned Salt
MINIMUM OF ANY TWO ITEMS PER ORDER
Lips Smacker's Chipotle Blend Seasoned Salt is a mild to medium heat aromatic seasoning with a smokey presence. It's great on pork, beef, chicken and fish. Adding Lips Smacker's Chipotle Blend Seasoned Salt to soups, sauces and gravies will give them a distinctive smokey flavor that's Sopability™!
Just sprinkle to taste!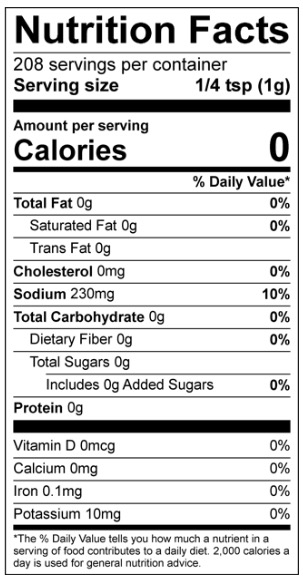 Ingredients
Sea Salt, Chipotle Chili Pepper Powder (dried jalapeno pepper), Paprika, Garlic*, Spices and Rice Fiber.
*Dehydrated.
ALLERGENS: None
NO MSG!
Legal Disclaimer
The Item(s) above are packaged in a facility where milk, soy, eggs, wheat, and tree nuts may be present. Statements regarding dietary supplements have not been evaluated by the FDA and are not intended to diagnose, treat, cure, or prevent any disease or health condition.
Shipping Weight: 10.2 ounces
UPC: 839287000096
Extra info
Replace this text with some additional info. If there is no extra info, you can hide this text or hide this block by clicking the icon at the above right corner.